Robot systems by KUKA and IAG
Electrifying future
KUKA CEE GmbH is located in Steyregg, Upper Austria, and is a company belonging to KUKA Aktiengesellschaft with its headquarters in Augsburg. KUKA is an integral part of many renowned clients in the automotive sector and beyond, offering a large selection of industrial robots from components to cells in almost all load capacity ranges and robot types. 
KUKA robots are employed, among other things, in the automotive, electronics, and consumer goods sectors, as well as in the metal industry. Convenient control systems and software packages for a multitude of applications round out the KUKA product portfolio.
IAG: highest quality and intelligent automation solutions
IAG's approach to each new project is very simple: we coordinate closely with the customer and our partners to develop tailor-made solutions that are optimised in preliminary tests and simulation until they are ready for production. Our systems are simple to handle, easy to maintain, offer process reliability and are characterised by their high availability. These factors guarantee our customers economical use – and make us an internationally valued partner.
As a supplier of customised special solutions, IAG integrates KUKA robots into its special-purpose machinery and automation solutions. What is important here is:
Support in the run-up to the project thanks to process simulation
Simple programming in the virtual and/or real commissioning
Process reliability in continuous operation 
Consistent positioning and repeat accuracy
Maintenance concepts
The following KUKA robot types are worth a special mention:
The KUKA series KR QUANTEC is part of the high payload class, and in this area it offers a very high load capacity and reach portfolio. This all-rounder by KUKA is designed for use in a wide range of market segments – from automotive to foundry to medical.
KR CYBERTECH - the industrial robots of the KR CYBERTECH family offer a comprehensive range of models in the low payload category with the greatest power density. They are ideally suited to space-saving cell concepts and provide top performance – with particularly low follow-up costs.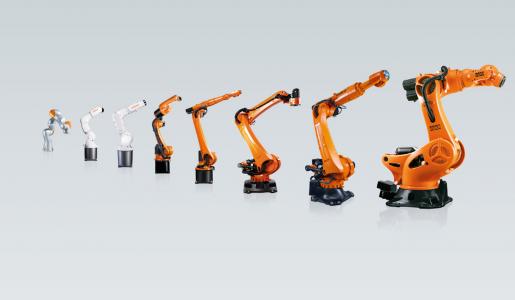 Robot integration: KUKA and IAG
IAG is a partner of KUKA. This qualified collaboration guarantees greater industry-specific know-how, and also ensures the seamless integration of your plug-and-play solution.